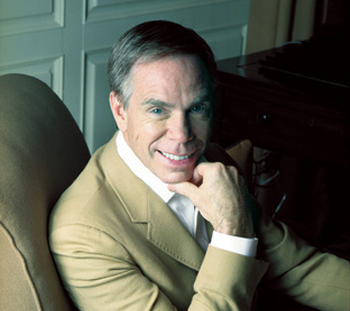 Tommy Hilfiger
Born one of nine children in 1951 in Elmira, New York, Tommy Hilfiger's eponymous brand is often viewed as epitomising the American Dream. His career famously began in 1969 with $150 and 20 pairs of jeans. When customers to his People's Palace store in upstate New York failed to find what they were after, he took to designing clothes himself, with no previous training".
In 1984, having moved to New York City, Hilfiger launched his first collection under his own name. With his distinctive red, white and blue logo and collegiate/Ivy League influences, Hilfiger presented a preppy vision of Americana which, coupled with his looser sportswear aesthetic, found a surprising new audience in the burgeoning hip-hop scene of the early '90s.
Hilfiger, a dedicated music fan himself, welcomed this re-interpretation of his work, but rumours that he was less than enamoured by his new audience led him to make an admirable response, lending his support to the Anti-Defamation League and the Washington DC Martin Luther King Jr National Memorial Project Foundation.
By 1993 his company had gone public and Hilfiger was named the CPDA's Menswear Designer of the Year in 1995. A new 'semi-luxe' line of tailored separates, entitled simply 'H', was launched in 2004 as a higher-priced, more upmarket addition to the global brand, which now incorporates everything from denim and eyewear to fragrances, homeware, sporting apparel and children's lines. In keeping with his music and fashion influences, Hilfiger chose to market his new 'grown-up' range by asking David Bowie and Iman to appear in ad campaigns for H. In December 2004 Hilfiger looked set on further expansion when he announced an agreement made with Karl Lagerfeld to globally distribute the latter's own-label collections.