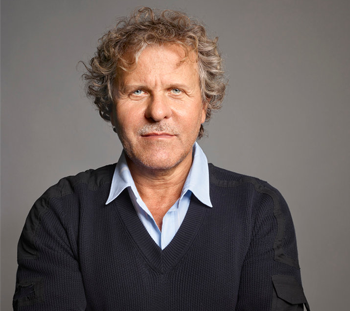 Diesel
Renzo Rosso (born 1955) is the force behind iconic Italian company Diesel. Renowned for its jeans, the brand is as equally acclaimed for its advertising campaigns. The brand's multi-award-winning catch line – 'Diesel: For Successful Living' – parodies advertising's dictum that products will make you happy, and encapsulates Rosso's confrontational, ironic fashion ethos.
The son of a peasant farmer, Rosso studied industrial textile manufacturing in his native Padua, followed by economics at university in Venice. Something of a master entrepreneur, in 1978, before his degree was completed, he co-founded the influential Genius Group to develop new fashion brands, among them Replay and Diesel.
In 1985 Rosso acquired Diesel and by 1991 had unified its first global marketing strategy. In 2000 the company acquired Staff International, holding agent for Dsquared, Martin Margiela and Vivienne Westwood Red Label. New brands have also been launched, among them Diesel Kids, 55 DSL and the experimental Diesel Style Lab.
Diesel has an annual turnover in excess of ˆ 750 m and even has its own hotel, the Art Deco Pelican on South Beach, Miami, and a farm in the Maristoca hills that produces wine and olive oil. Still true to its core product, Diesel recently launched the Diesel Denim Gallery, offering specially-treated jeans billed as one-of-a-kind denim art pieces. While the brand is sold in over 80 countries, Diesel denim jeans remains 100 per cent made in Italy